Vegan Cooking Master Class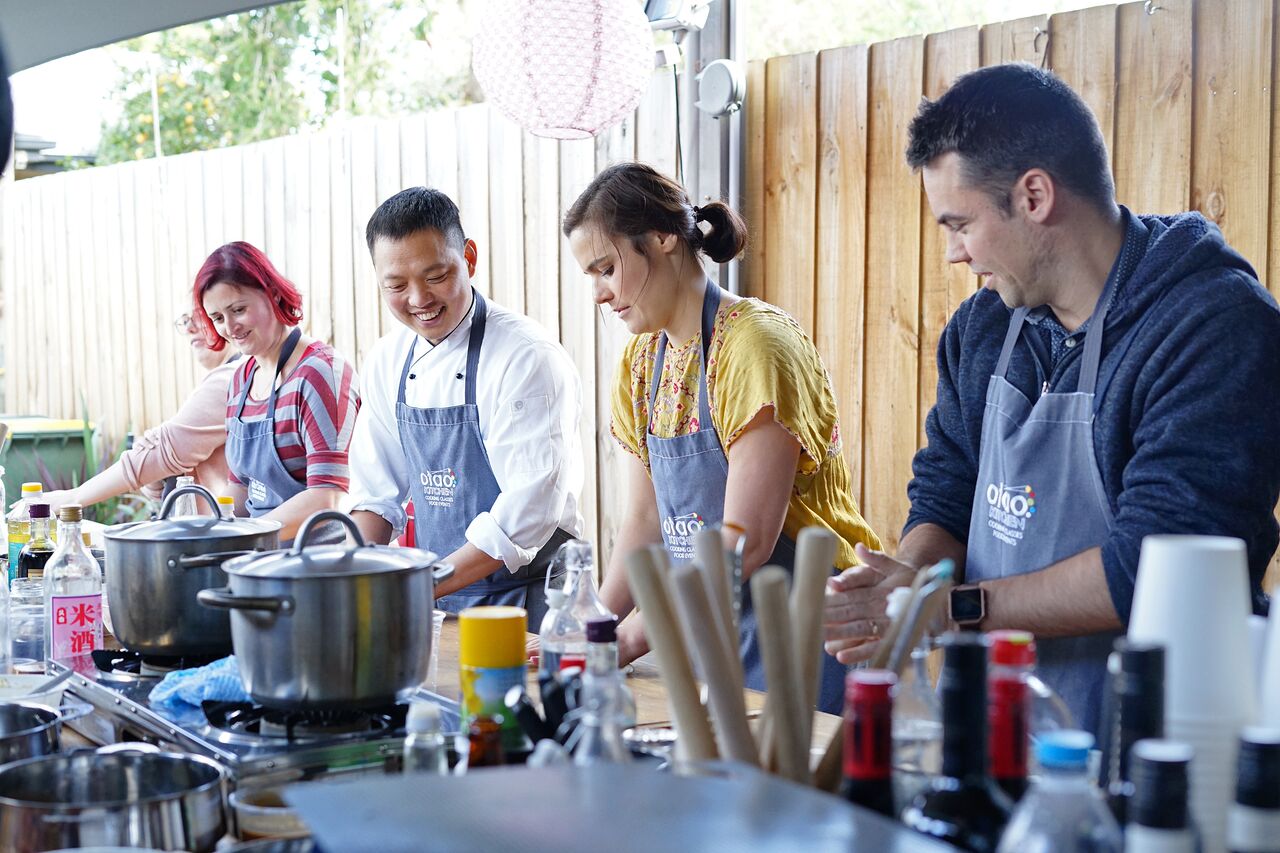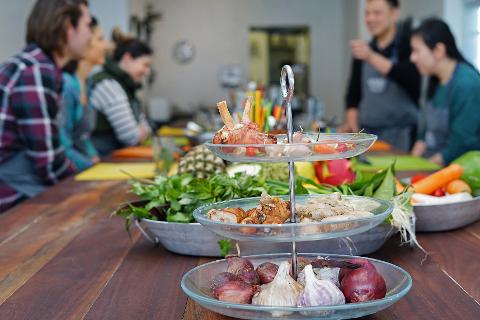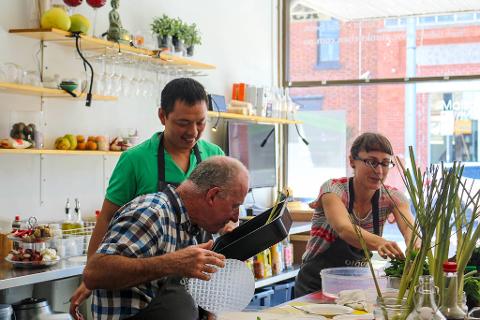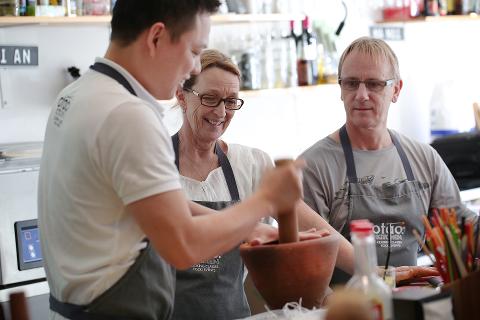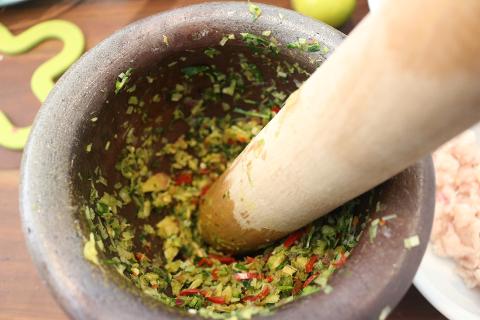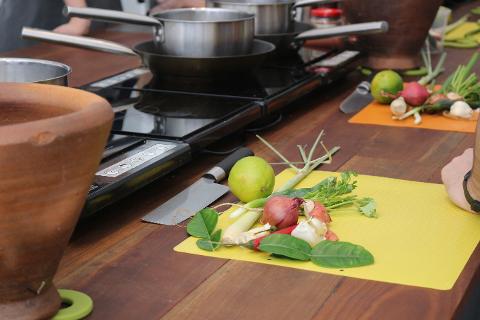 Duration: 3 Hours (approx.)
Location: Richmond, Victoria
Join us with this plant-based cooking workshop to discover the smell, touch, taste of the flavour of vegan cookings from India to Japan. Take home your best vegan meal plans and cook up delicious dishes. Combine our traditional vegetarian and vegan food understanding with time spending with your chef to perfect your home cooking to its best. This workshop is designed for anyone who enjoys either cooking at home to a high standard and is interested in a thorough grounding on vegetarian or for aspiring chefs or chefs already working in the industry who are looking to expand their vegetarian repertoire. Given the intensity of this course, it is limited to 8-12 guests only.
HIGHLIGHTS
Learn fundamental kitchen and cooking skills

Delicious and healthy meals made from scratch each day
Enjoy the cooking experience in a small and intimate group setting
Learn tips and tricks for cooking at home
Enjoy a fun cooking, eating and social experience with complimentary wine and beer
ON THE DAY
Guests will be given kitchen orientation guiding them through basic kitchen techniques.
A chef will make the introduction then we will go over the lesson content of the day. You are required to work with one another in the class.
After that, the guests will go prep and start the process of making the dishes. You will have a meal and leftovers can be packed up to go home.
The guests will be expected to clean their section and organize their areas
Each month will run on different cuisines. See the sample menus below.
LESSON 1 - JAPANESE COOKING
Jan May-Sep
Chirashi Sushi- Colourful Sushi Rice

Yaki Ganmodoki - Pan-fried Tofu Cakes
Kenchin-Jiru- Root Vegetable Stew
Ingen Horensou Goma Ae- Green Beans or Spinach in Sesame Sauce
Nasu Miso Itame- Eggplant Stir-Fried with Miso
Tsukemono (Seasonal Japanese pickles)
LESSON 2 - KOREAN COOKING
Feb Jun-Oct
Yeonnik-bap - Sticky Rice Wrapped in Lotus Leaf
Saeng-Baechu-Doenjang-Guk - Soup with Bean Paste and Wombok
Oi-Baek-Kimchi- White Cucumber Kimchi
Danhobak-Bokkeum- Stir-Fried Kabocha Pumpkin and Broccolini
Mul-Naeng Myeon- Cold Buckwheat Noodles with Broth

LESSON 3 – VIETNAMESE COOKING
Mar Jul Nov
Nuoc Cham- Sweet and Sour Dipping Sauce

Banh It Tran- Steamed Rice and Mungbean Dumplings
Goi Cuon- Rice Paper Rolls with Seasonal Vegetables
Dau Phu Xot Ca Chua – Tofu in Tomato Sauce with Herbs
Pho Chay - Vietnamese traditional noodle Pho
LESSON 4 - INDIAN COOKING

Apr Aug Dec
Garlic-sesame Naan Bread

Turmeric-Mango Lassi
Palak Paneer- Spinach Curry with Tofu

Nasi Kuning- Turmeric Rice
Chickpea and Tamarind 'Vindaloo'
IMPORTANT INFORMATION
Vegan cooking is perfect for your Christmas Party, Birthday party, Anniversary, Hens Party, Bucks Party, Team Building Cooking, Work lunch and dinner or Corporate event. We can cater to different dietary requirements - please let us know by email hello@otaoktichen.com.au

If you need to cancel or reschedule a booking you will need to email hello@otaokitchen.com.au. You must do this at least 7 days before your class to cancel or reschedule. We are sorry that we cannot refund or rebook any cancellations made online or in-person after this time.

In the event that you are unwell, we ask that you send someone in your place. The participants who are not unwell will still be expected to attend. Alternatively, if you provide notice prior to the class, you are welcome to collect the ingredients and online recipe to take home with you after the class. Please note that this may not be possible as fresh meats and seafood in all cases and you should call 0408 217 899 to check with the chef team. This cannot be organized via email.

Lateness: please arrive 10 minutes before the scheduled start time of the class. We cannot accommodate or refund for those who arrive after the scheduled start time, even if you call ahead. The instructor will be expected to start on time and will not be able to repeat the health and safety and/or demonstrations at the beginning of the class.